2018 Volkswagen Tiguan: German Engineering Meets Practicality
January 01 2018, Volkswagen Waterloo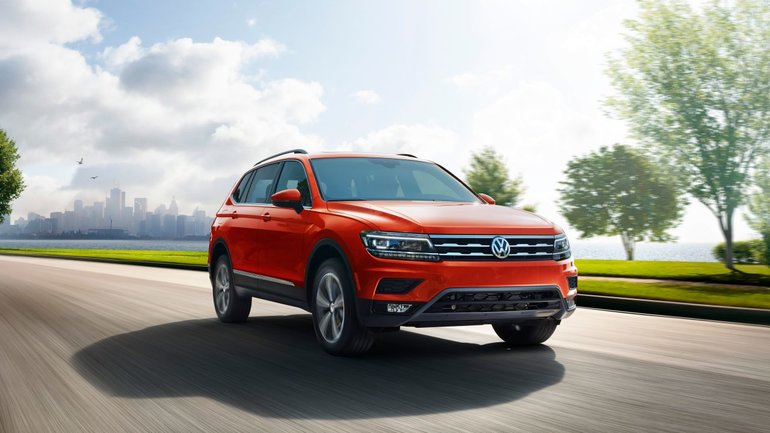 If the previous-generation Volkswagen Tiguan lacked for anything, it would be interior space. While the Tiguan has always been fun to drive and remarkably dynamic, its cargo capacity and interior volume have lagged behind other compact SUVs in its segment. With the 2018 Volkswagen Tiguan, the problem has been fixed while preserving the performance and dynamic handling that makes every Volkswagen product so appealing.
More Space Thanks to an Extended Wheelbase in the 2018 Volkswagen Tiguan
The 2018 Volkswagen Tiguan comes in two versions in Europe, but in North America we'll only be getting the extended wheelbase model. Thanks to a wheelbase that's 272 mm longer than the outgoing model, you get a lot more interior space for your passengers and cargo in the 2018 Tiguan.
In fact, there's so much interior space in the 2018 Volkswagen Tiguan that it's now possible to opt for a third row of seats and transport up to 7 passengers. The new Tiguan is one of the few vehicles in its segment to offer this possibility. Regardless of whether you need extra seats or not, it's certain that the new Tiguan is definitely one of the most spacious and versatile vehicles in its class.
It's also very safe thanks to a wide range of driver assistance features including blind spot monitoring, adaptive cruise control, forward collision alert, emergency braking with pedestrian detection, and lane departure warning and prevention.
As for connectivity and convenience features, the Tiguan is available with Apple CarPlay and Android Auto, a heated steering wheel, a panoramic sunroof, a power tailgate, and more.
A Very Efficient Engine for the 2018 Volkswagen Tiguan
The 2018 Volkswagen Tiguan is powered by a single engine that provides all the power you could ever need with improved fuel economy to boot. The 2.0-litre, four-cylinder engine delivers 184 horsepower and 221 pound-feet of torque, and it can send power to the front wheels or to all four wheels through an 8-speed automatic transmission.
There's a lot to love about the 2018 Volkswagen Tiguan. To learn more, contact us today at Waterloo Volkswagen!